Pulsar  Modular P42 Climax is an innovative multifaceted powerstrip for tone shaping/coloration, saturation and conjures more of the idea of working with hardware. P42 Climax begins with the heartbeat of a hardware line amp, and ends on every single track because it has the cpu coverage to do so (more than 300 instances in a single session). Sculpt your perfect sound whether processing a single instrument, grouped tracks, the 2-bus or even when mastering. The sound is simply… unbelievable!
Don't underestimate the few parameters in P42 Climax.  It is chameleon like, able to assimilate many different coloring hardware devices, but never intended to copy any single one! P42 Climax works magic on drum bus, snare, and of course the bass guitar. Inserting P42 on the 2-bus track, immediately opens up your mix and exposes hidden gems in your mix. With its Mid/Side processing and detailed metering (peak, RMS and LUFS) and Auto. Gain Compensation workflow, P42 fits nicely into your mastering signal chain.
Don't get scared by the price tag- a comparable hardware unit for a single channel costs around $1,700. Check the Audio examples below as we compare P42 Climax plugin tone shaping against the Neve 1080, Studer A812 Tape recorder, WolfBox DI and other hardware devices.
Organic hardware-like feel & behavior.
Pulsar Modular signature Shelving EQ (Low & High).
Signature LPF and HPF 
Tube-like odd harmonics saturation slider.
Super low cpu tax and zero sample latency!
Works with Mono, Dual Mono or Stereo signal.
All parameters are exposed to your DAW for automation.
macOS: AU, AAX and VST3 formats.
Windows: VST3 and AAX formats.
Linux LV2 format coming soon!
Lunar Lander is INCREDIBLE! Realistic BBD Delay behavior.
Scott is responsible for some of the most head strong electrocore bass-bangers such as Dark Star, Go Bang, Beyond, This is the Sound of Underground and Bad Robot.

Extremely lush melodic plate reverb emulation. I use it when I want to add character to a sound.
Marc Codsi is a composer, multi-instrumentalist, record producer and film composer.
I am stuck on Lunar Lander plate reverb 3- so much cream – Wow!
Composer, producer and performer.
Supported Plugin Formats
AU, VST3, AAX.
Supported Operating Systems
macOS 10.12+
Windows 7+
Mac
Apple Silicon M1 Native and Intel CPU (Universal 2 Binary)
PC
x64-compatible CPU
System Requirements
Display resolution: 1440 × 900px or 1280 × 960px or higher
Memory: 2 GB RAM
Copy Protection
A one-time challenge & response over the internet. License works on up two separate machines.
For previously authorized computers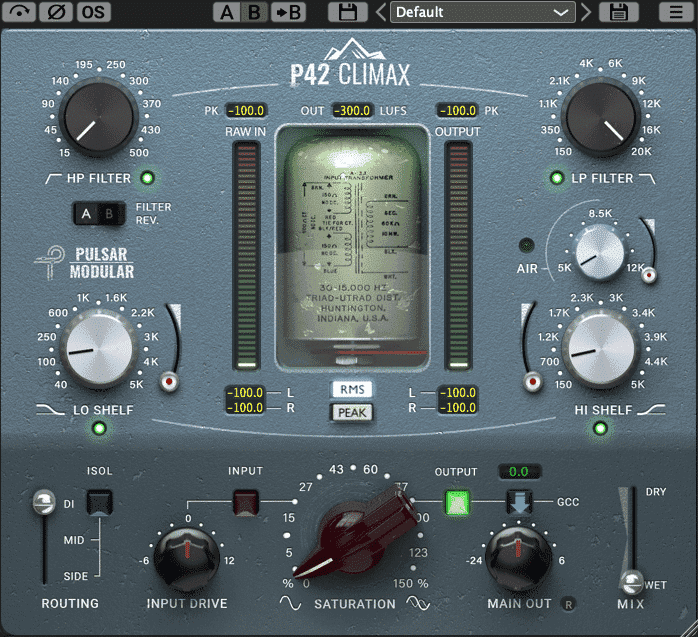 40-Day Free Trial
To start your 40-day fully functional trial for 2 computers, Press the "add to cart" Trial button and complete the checkout. Follow the instructions you will get by email. No dongle required.
How do you get the Motown sound?  You will need the Wolfbox DI made in the late 60s and used by the recording studios at that time for the signature bass guitar sound and the soft electric guitar sound. The Wolfbox was driven by a Triad A-11J or A-12J, which are not produced any longer. This is what drove the legendary Motown sound. It's the sound of James Jamerson, Dennis Coffey, Robert White, Joe Messina, and the Funk Brothers- Motown's legendary in-house rhythm section.
P42 Climax extended functionality is able to nail the sound of a Neve 1080. The 1084 is one of the most revered hardware units ever designed. It sounds like a 1073, and it gives you that beautiful Neve sound thats so sought after.
With every purchase, a free of charge limited production embroidery T-Shirt.