Lunar Lander- BBD Delay, Plate Reverb plug-in
Breathtaking bucket-brigade Device (BBD) analog delay, plate reverbs (3 sizes) and Class A and Class A/B saturation emulation plugin. Easy to use 3-in-1 combo guitar-like pedal.
We all know the delicate tweaks needed to get a sound to "sit" in the mix. The name of this plugin, Lunar Lander, came about from the easiness of getting this task done.
Primarily designed for guitarists or to tame your aggressive analog synthesizers to sit in the mix, but you will find it working well with just about any other sound source. Put it on your plastic sounding soft synth, and crank the saturation up, and transform your Chihuahua synth to a Dobermann Synth :)
Try Tap Tempo your bpm and crank up the regenerate knob on the BBD Delay Module and get the track grooving. You can switch the signal path to go first through either the BBD Delay or Plate Reverb.
Try Lunar Lander on Bass Guitar and get that larger than life sound. Do you want that 80s soaking reverb sound? Switch to Plate 3 and you are there in a second.
Organic feel & behavior.
Precise modeling of BBD Analog Delay.
Three Plate Reverbs.
Class A amplification: excellent linearity, high gain, low signal distortion levels and accent the transients.
Class A/B amplification for saturation and color.
Flip Analog Delay and Reverb modules in the signal chain.
Dry/Wet Mix Control for both Delay and Reverb units for some cool creative effects.
One knob Ducking.
Works with Mono or Stereo signal.
All parameters are exposed to your DAW for automation.
Zero latency!
macOS: AU, AAX and VST3 formats.
Windows: VST3 and AAX formats.
Supported Plugin Formats
AU, VST3, AAX
Supported Operating Systems
macOS 10.14+ (Lunar Lander currently is not compatible with Apple Ventura OS. Upcoming v2 will be.)
Windows 8+
Mac
Apple Silicon M1 Native and Intel CPU (Universal 2 Binary)
PC
x64-compatible CPU
System Requirements
Display resolution: 1440 × 900px or 1280 × 960px or higher
Memory: 2 GB RAM
Copy Protection
A one-time challenge & response over the internet. License works on up two separate machines.
For previously authorized computers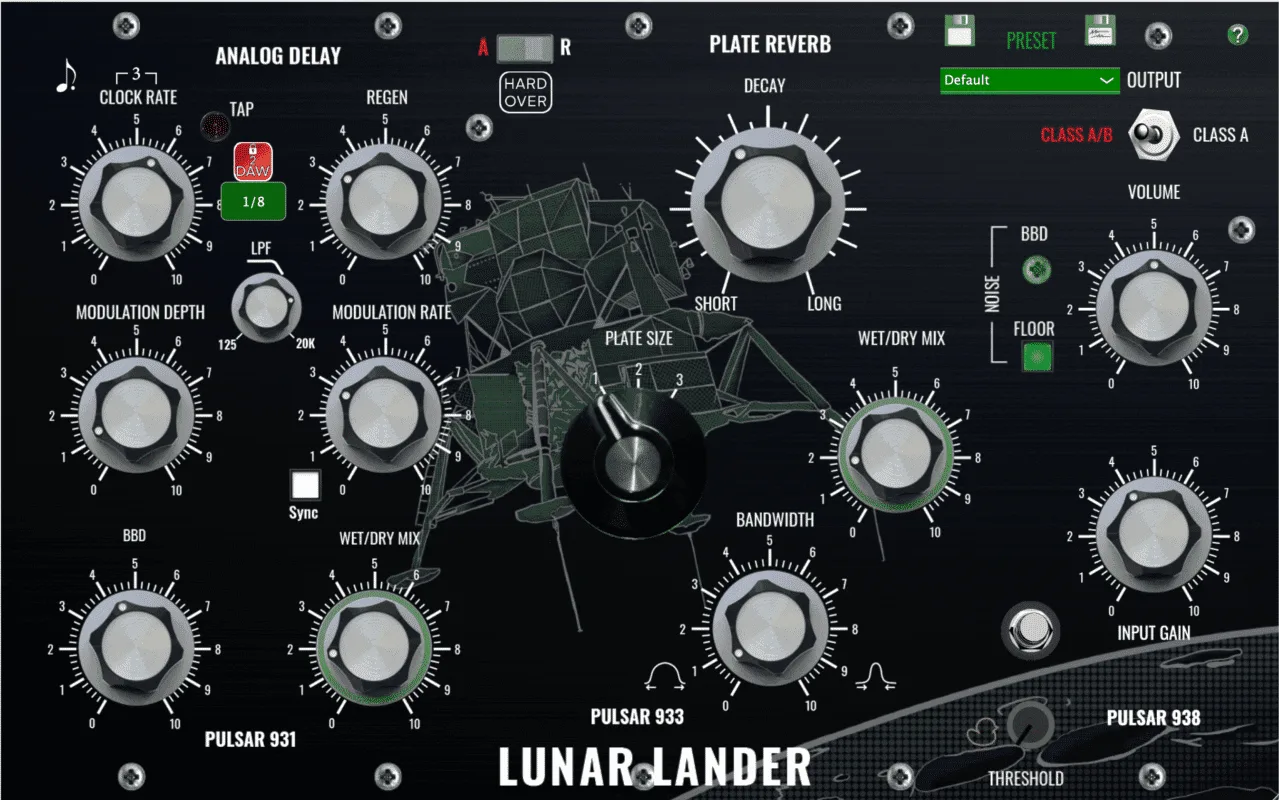 iOS VERSION
Free with In-App purchases. (AUv3 and Standalone). Scan the QR Code from your iOS device or click on the download icon.
40-Day Free Demo
To start your 40-day fully functional demo for 2 computers, Press the "DEMO" button and complete the checkout. Follow the instructions you will get by email. No dongle required.
Bucket-brigade Device (BBD) analog delay, plate reverb and saturation plugin.
With every full version purchase, a gift of custom handmade real calf hide wallet (lighter, softer and finer grain than cowhide) made here in Türkiye by a local artisan shop.